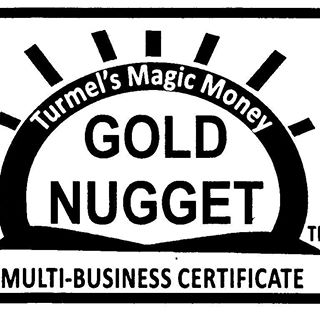 GOLD NUGGET NETWORK
(no wasted coupons)

50 Brant Ave. Brantford, N3T 3G7

Tel/fax: 519-753-5122


Brantford List of 200 Stores:
2-page Brantford Directory

2017 Magic Money Report with coupons
2016 Magic Money Report with coupons
2015 Magic Money Report with coupons

FREE DISCOUNT IN 1988 OTTAWA GOLD NUGGET DISCOUNT DIRECTORY
In the mid 1980s, the Gold Nugget Network Discount Coupon Directory listed over 1,000 Ottawa area stores accepting Gold Nugget Discount Coupons which differed from regular coupons in that rather than print one coupon per store, one Gold Nugget worked in all 1,000 stores listed in the attached Directory of stores and discounts! No wasted coupons. When a merchant publishes a coupon offering a discount , it also costs to print and distribute the coupons but a store could advertise its discount on the the Gold Nugget Network Discount Directory for free because the Gold Nuggets were sold to those whom were given the discount. It only cost the merchant the discount when the buyer came in! If no one came in, it cost him nothing! It wasn't hard to get 1,000 stores to accept advertising of the discount they were offering for our Gold Nugget coupon which profited when it worked and was free when it didn't. Here are 1,000 businesses that were willing to give up a discount for the free ad and now we've found a way of giving them the free ad without losing the discount!

CONSTANT SAVINGS COMIC
7-frame comic on how Gold Nuggets save constant money (hold
Control and scroll Mouse Roller to change image size)
1) John's dilemma
2) John invests his dollar for 4 Quarter Gold Nugget Multi-
Business Stock Certificates
3) 1st Quarter Gold Nuggets saves $1 for gas at Saveway, 75
cents saving is 300% profit.
4) 2nd Quarter Gold Nugget saves $2 for dry cleaning at
Spic&Spoan, $1.75 saving is 700% profit.
5) 3rd Quarter Gold Nugget saves $3 for video rental, saving
1,100% profit.
6) 4th Quarter Gold Nugget saves $5 from Pizza Pizza, $4.75
saving is 1,900% profit.
Investing $1 in 4 Quarter Gold Nugget coupons saved $11, a
1,000% profit that day.
Getting gas, dry cleaning, videos and pizza once a week
saves $500 per year.

The Anti-Poverty Engineer's Back-Up Gold Nugget Super Coupon Video
Super Multi-Business No-Name Certificats never expire.
Store listings may change or expire but not the coupons.
Directory can only gorw so leave Gold Nuggets in your will.
Timeline of Topics:
1:30 No unusaed "No-Name No-Waste" coupon with Directory of businesses with
deals has no unused coupons.
All may redeemed in your one favorite store, none wasted.
3:50 Listing may expire but coupons do not.
5:00 400 businesses per page.
5:45 FREE for merchants so whole budget to discont, not to printing.
8:00 Ottawa Directory of 1,000 Stores and Deals.
8:30 John's Day of Savings comic strip.
10:45 John's permanent 1,000% saving on investment, $500/year.
15:30 Big Dollar Savings in 200 Categories of stores.
21:30 Find deals by Directory or Decals.
22:30 Toronto 100-store network
22:40 Directory posted online now, publish only coupons
23:30 Contract for new listings also offers removal from list
25:00 Less Sales Tax, less Income Tax, less interest costs
30:00 How to spend your Gold Nugget.
31:40 Gold Nuggets rewarded for info cleaning list.
32:00 C ontract for new stores on and off.
33:00 Gold Nuggets will be published.
To join the Gold Nugget Network, go to the Registration Form fill out details,